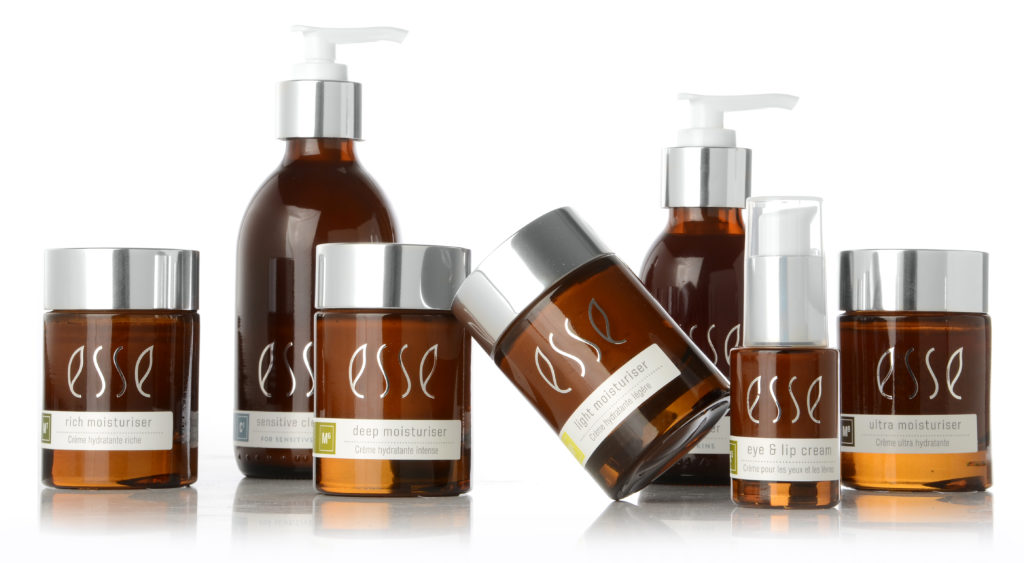 Esse
The beginning of Esse starts with science, scientist Trevor Steyn developed this wonderful brand with indigenous ingredients from South Afrika. The origin from Esse therefore starts in South Afrika. A natural and biological line that also works on the microflora of the skin. At first, probiotica proven to be a good support for the intestines, now they proven to be needed for a healty skin. Esse is working with prebiotics, these prebiotics (good bacteries) ensures a good skin flora. When the flora of the skin is in good balance, it protects your skin against the influence from the outside, that ages your skin. Esse works according to the believe nature gives us everything we need to survive. Esse contains ingredients as Baobab, Kalahari Melon, Kigelia and Marula. These plants are wild-harvested to maximise the potency of the extracts.To guarentee the maximalisation of the extracts all the ingredients are cold pressed.
Esse is certified (EcoCert) biological, vegan, crueltee free, carbon neutral and support Fair Trade.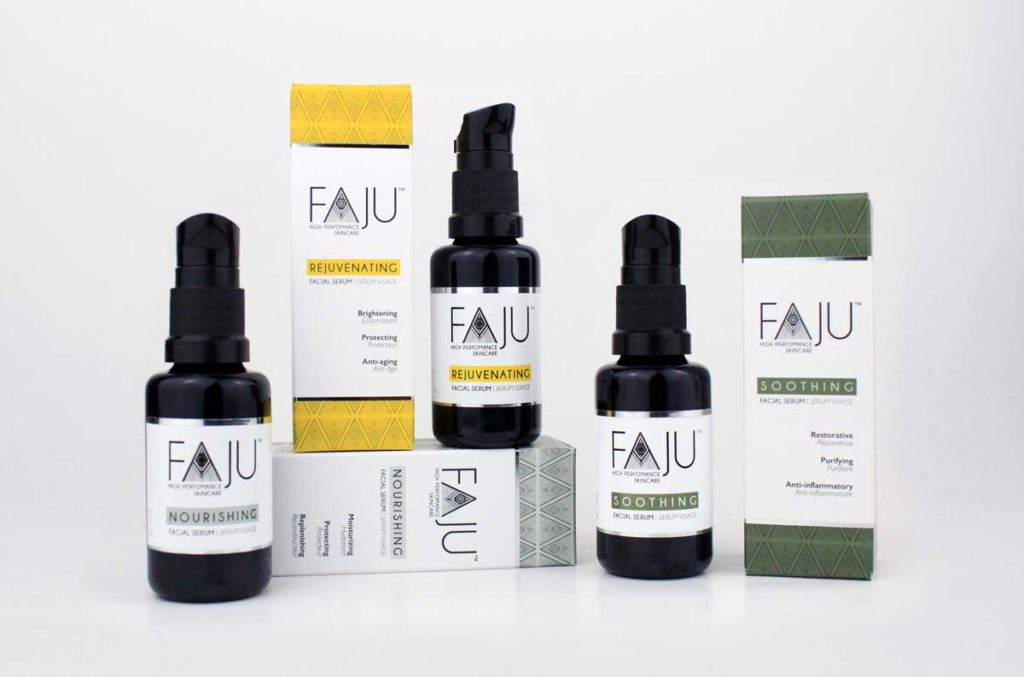 FAJU

FAJU means " to heal yourself " in West Afrika, where the ingredients from this beautiful brand come from. FAJU stands for quality, cold pressed oils wrapped in Miron glass, this blocks every light beam. With this glass it's possible to work without preservatives and is it the purest oil I know. The serums, better to say, oils don't only improve the skin but they also make sure your skin will heal itself. Think of beautiful ingredients such as: baobab, hibiscus, argan, kalahari melon, tigernut, moringa and neem. Three serums for every skin type.
Nourishing – rich of essential fatty acids, vitamins and anti oxidants, hydrates and moisture.
Soothing – active purifying ingredients with antibacterial and anti inflammatory proporties.
Rejuvenating serum – rich of fatty acids, vitamins and anti oxidants with a brightening effect on pigmentation, stimulates the collagen and protects the skin against DNA damage, best for the aging skin.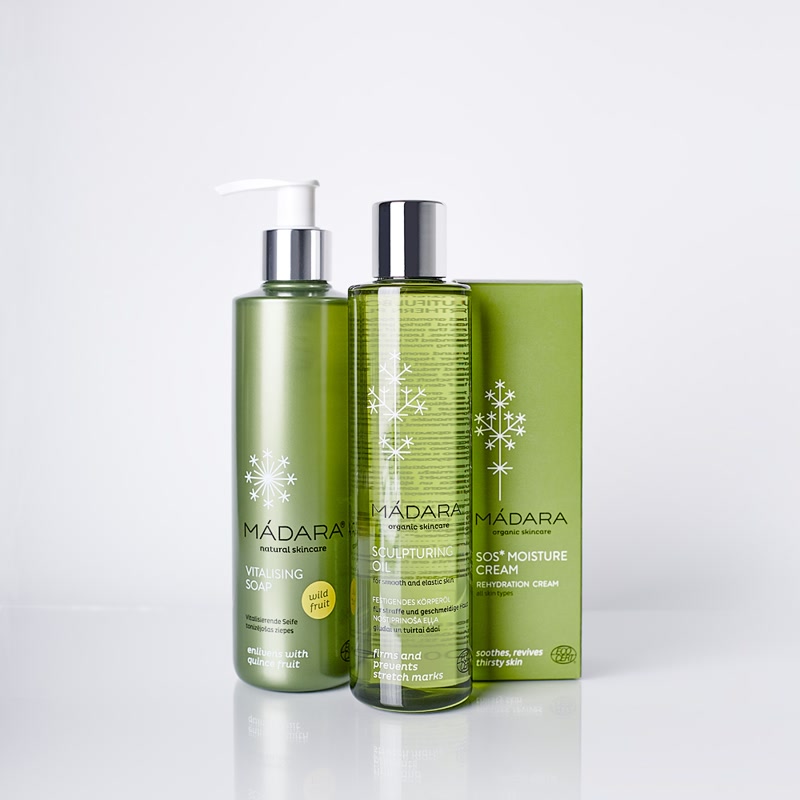 Mádara
Mádara is a fantastic natural cosmetic brand from Latvia, set up by four women: Zane, Lotte, Paula and Liene. Their aim was to produce high quality natural skin care, which is packed sustainable and produced in a fair way, with passion and respect. Mádara did not just arise, with the knowledge of all the plants and flowers and the wisdom to survive, from mother to daughter, from father to son. With this knowledge they want to show that nature has everything we need to offer. Mádara has the right products for every skin type, has a wonderfully soft scent and feels like velvet.
Mádara also has a range of sunscreen, this protects against UVA & UVB radiation – SPF30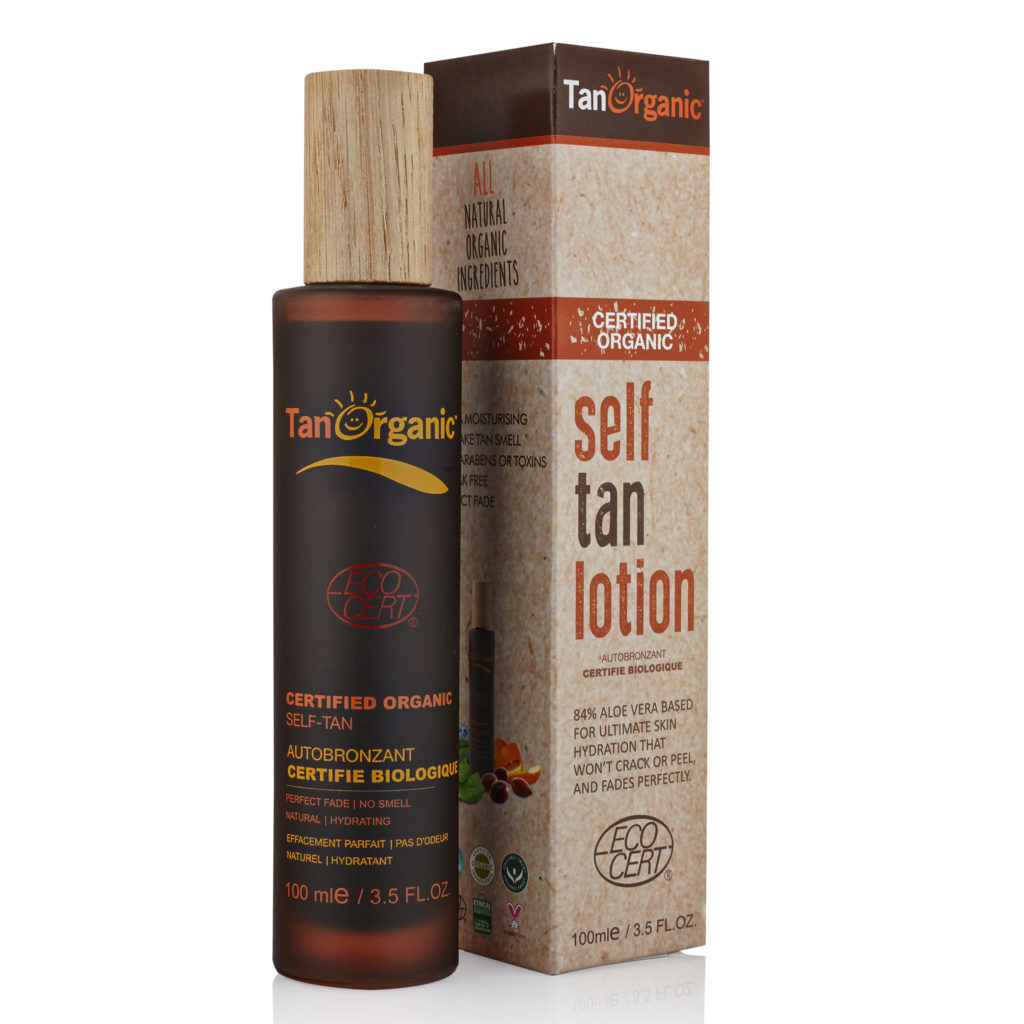 TanOrganic
TanOrganic is the first self-tanning oil/lotion that is Ecocert certified! The oil and lotion are based on aloë vera and contain at least 99% natural ingredients, without synthetical substances or chemical color, odor or preservatives. These products ensure an even complexion (without streaks), leaves no greasy film and unpleasant smells are a thing from the past. The complexion is built up in 6 – 8 hours and for a more intense tan, the oil or lotion can be re-applied if desired. These products are suitable for every skin type, also for the sensitive ones. The tan without sun products come in two options: Self Tan Oil is an oil in combination with the self tan lotion, one product instead of two, easy to apply and quick results. The oil can be used without the application glove but use the exfoliater glove for the best result and also to remove the last parts of tan. Self Tan Lotion is a lotion for a deeper tanning after using a nurturing oil, such as the TanOrganic dry oil with argan. After using the exfoliater glove apply the lotion with the application glove for the best result.
Have a after holiday look for the rest of the year!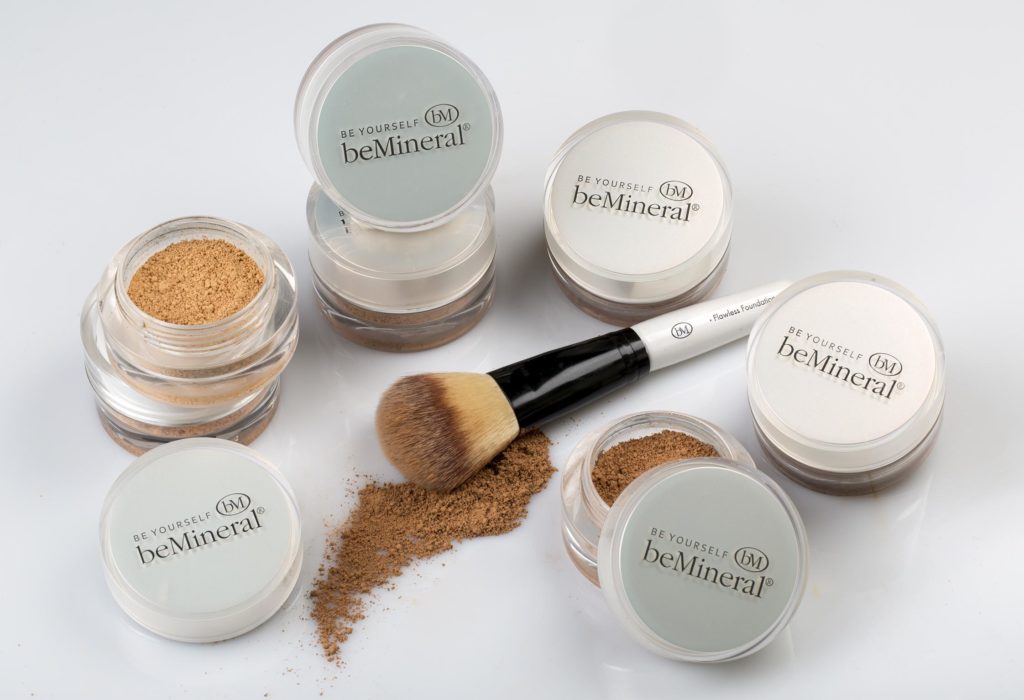 beMineral
beMineral is a 100% natural and pure make up line. With ingredients like mica, iron oxide and titanium dioxide (SPF 15). This make up line is making sure that you get to know foundation, blusher, eyeshadow, mascara, eyebrow powder and lipgloss in its purest form. A skin that can breathe, eyes without irritation, clean lips, that's the result you get with beMineral. Beautiful make up, i am a fan.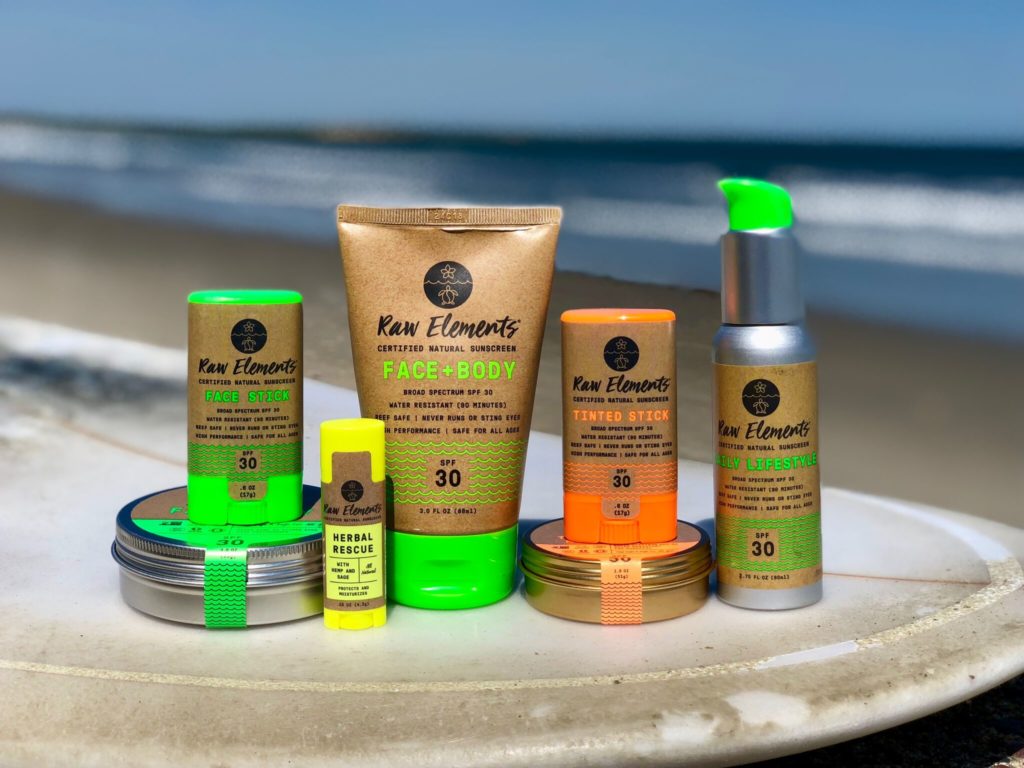 Raw Elements Zonnebrand
Raw elements is a 100 % pure and natural sunscreen that protects your skin against UV A + B radiation. This brand is developed by Brian Guadagno, a former ocean rescue lifeguard USA. He became aware of the cancer epidemic. When he saw the damage UV radiation caused and the misleading sunscreen inadequate protected, he developed Raw Elements. This is a clean sunscreen, free of chemical ingredients and based on zinc oxide, different tea species, bee wax and cacao butter. All sunscreen contain a SPF 30 protection, highest protection. Every product is water resistant and doesn't sting the eyes. Available in a lotion SPF 30 for face and body, stick SPF 30 for the face and a tinted stick SPF 30 for the face.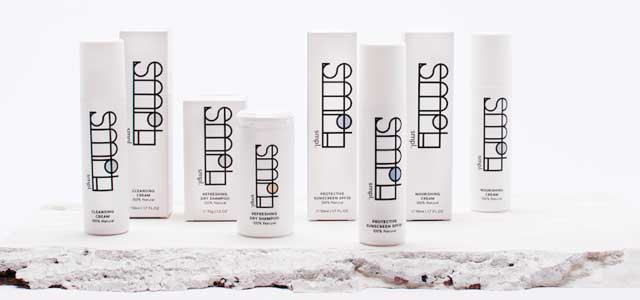 SMPL
SMPL a new dutch brand and a wonderful addition to the natural cosmetics market.. SMPL is found by Willemijn Kornelis and Liselotte Wannijn, two women who begin to think bigger after setting up the brand BeBio. SPML stands for natural ingredients, no synthetical adds and for everybody to use. The line consist of a number of products ; cleansing cream + konjac sponge, nourishing cream, protecting sunscreen, refreshing dry shampoo and the DeoRock as described below. Delicious products that feel and smell incredible pleasent, with a taste of vanilla. SMPL stands for the following ; no nonsense, transparant, practical, stylish and accessible. The products are easy for travelling and looks good in your bathroom by the sleek design.
DeoRock
DeoRock is a stone that functions as a natural deodorant. This stone does not contain synthetical ingredients that absorb and clock your skin but consists of a 100% salt mineral. This Moroccan chrystal stone keeps your armpit fresh, protects 24 hour, odor free and leaves no marks on your clothes. The molecules from this stone are too large to penetrate through the skin, wich will not clock the pores.
The salt chrystallizes under the influence of water. When you put water on the stone, it leaves a filmic layer on the skin. This layer kill the bacteria that cause odor and transpiration. The skin continues to breathe in a natural way. The stone works best on a clean skin. After use, dry the stone so it last longer. Suitable for men, women and even children. This stone also fights minor skin problems such as shaving nicks, pimpels and insect bites.
---
---